This story was created and inspired by my admiration for this decade – the 1960s.
Date: 28.05.1967
"Saturday Night at the Movies, who cares what picture you see…". Slowly I opened my eyes. My eyes fell on the open window through which the first rays of the sun fell on my face. The sounds from my record player ripped me out of my sleep. I must have put on the vinyl all night. When I came home from the party last night, I happily swirled around my room singing the song, I remembered. Only it wasn't Saturday night anymore, it was Sunday morning. I had still tried to take off my new black and white patent shoes, which ran to the front pointed. Actually, it wasn't real leather at all. The market is currently producing synthetic shoes. So it was a great alternative for young students like me, as they were not very expensive. So after I managed to take off my shoes, I got a little drunk and fell asleep.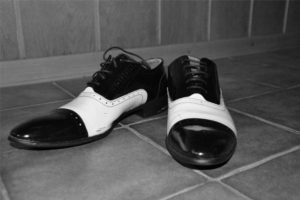 Now I woke up and lay in a rather uncomfortable position on my upholstered bed, which had caused an unpleasant sleep. I stroked my long hair from my face and rubbed my agitated eyes. My God, I had slept in my clothes, I realized with an astonished look on my body. I noticed my features twisting into a slight grin. Still better than sleeping in the embarrassing knitted pyjamas my grandmother had given me, I thought to myself. I was wearing a deep blue light shirt with a high collar and a tight fit. It was my favourite shirt that my mother brought me from Italy a year ago. It was already wrinkled from wearing it. The elegant white bow tie lay on the floor, I noticed. Not only that – a smudge from the Afri-Cola, which I didn't miss at any party.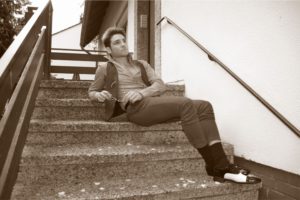 Just as slowly as I opened my eyes, the colourful pictures from last night bubbled in my head: As soon as I arrived at the party, I was handed a welcome martini, three of which were full bottles. I think I drank some cups of this one. They were large yellow cups labeled Peace and Love. Alexander Schmidt, a friendship of many years united us, celebrated his 23rd birthday in a large front garden. He didn't have to worry about the party because his parents Olivia and Andreas were at the Baltic Sea for a week.
There were about 20 people present, including me. Of course, his parents knew nothing and it would have taken him hours to restore the garden to the state it was before the party. If he didn't want to listen to you lecture. Everyone was celebrating exuberantly, the atmosphere was simply contagious. We toasted Alexander and had put on a much too big straw hat. We danced the twist, the sounds of which sounded from the turntable in the gazebo, which offered enough space for dancing. "Come on let´s twist again, like we did last summer"…..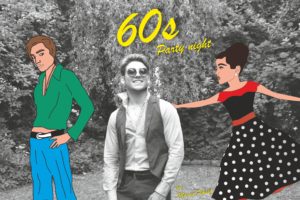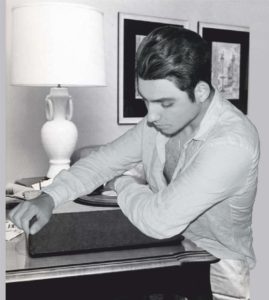 Now that the song has probably been repeated more than 50 times, I put off the puck and the melody stopped. My head was buzzing, but it was good to get up. I went to the window and breathed deeply. The weather was wonderful, as was the row of large birches, whose branches blew around in the early summer wind. I loved summer, it was just the best time.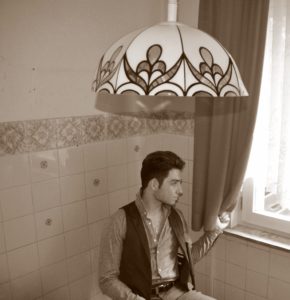 I made myself some sandwiches in the kitchen. I still tasted the taste of the martini. I went back into the room and sat in the cocktail chair, which was standing so that I could look at the large poster of Marilyn Monroe to the left of the door. A thought about last night made me laugh. A friend, her name had been Linda, who had only moved to Hanover a few months ago, had also been there yesterday.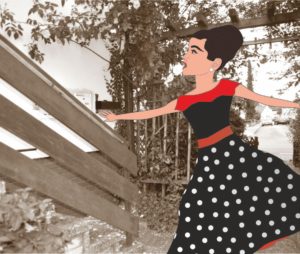 Everyone who knew her knew that, whether in college or at a party, she had placed great value on her clothes and hairstyle. More than her friends. She was wearing a black petticoat with red details. Her red pumps, which she almost always wore, flashed out as she danced. When I had already greeted everyone, most of them were outside in the garden, I went to the summerhouse to get some snacks. I greeted her with a loud "good evening". Unfortunately, I hadn't noticed that at that moment she was tinkering with her beehive hairstyle and was completely in thought. She screamed in shock and sprayed herself with her hairspray. "Manuel, do you have to scare me like that?" she asked me annoyed. As if her hairstyle hadn't had enough of this spray already, I just thought. Because her hair was almost perfectly backcombed.
Back in the present I wondered if Alexander was at home. We shared an apartment. Last night I had gone back alone because I had danced my feet to almost every song and had become tired. Curiously I walked towards his room, which was open. There was no one to see.
I washed myself and put on fresh clothes. Smiling I thought he had probably spent the rest of the night in the garden. First I would have laid down on the meadow and enjoyed the sun. After all, I had another university tomorrow. I grabbed one of my many comics out of a drawer. I went out to the door in the yard and took my old man's bike and started cycling.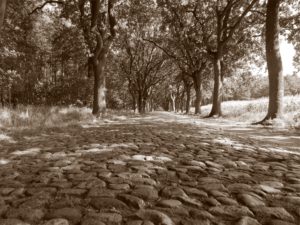 Along the cobblestone road to the park. "Saturday Night at the Movies, who cares what picture you see…", played up and down in my ears. At a nice place near a big field I made myself comfortable and let the sun shine on my face.
And then I opened my eyes. This can't be true, please don't let it be true, I talked to myself in a horrified voice.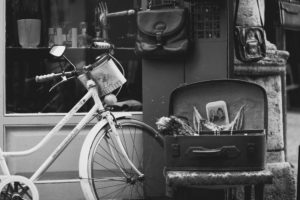 Yesterday morning I met Alexander's aunt in the market square. She had told me she wanted to surprise him and he was supposed to come to his parents' house on Sunday morning. Of course, she didn't know about the party either. And I screwed up to tell him. Full of haste I stood up, grabbed my bike and sprinted towards the garden. Hoping it wasn't too late.
I wake up. The dream was over. I reach for my cell phone to my left and check the date. 28.05. 2018.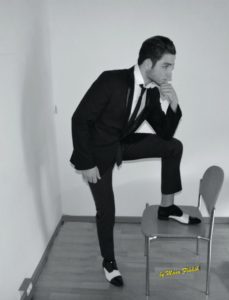 The pictures of that time may have been black and white or yellowed, but the colorful one had played itself off in life. -Manuu Flääsh
"Dream, dream, dream, dream, dream. All I have to do is dream"
gallery will be available here soon